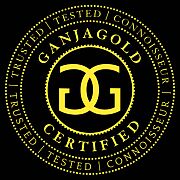 Ganja Gold
5.00 ★
Always Connoisseur Grade Premium Cannabis Products
"Our purpose is to introduce people to a luxury experience, surpass every expectation of the cannabis industry, and offer world-class products and service." - Ganja Gold team
A sole purpose of merely "getting people high" misses the mark. With Ganja Gold, patrons get a robust cannabis experience unlike any other. Every product is designed to enhance and completely innovate what you've come to expect from flower and extractions.
Ganja Gold's team of long-standing industry experts never lost sight of the medical aspect of cannabis. Those early champions who pushed for safe access to all natural medicine are never forgotten. The Ganja Gold team believes it is their duty to produce the finest and most reliable cannabis products to build upon the efforts of those before them. Ganja Gold is paving the way for a brighter representation of the cannabis community while developing the most inspiring cannabis products.
Alex Patel is a cannabis innovator who has been making waves in the industry since 2008. When he and his team set out to create Ganja Gold it was to bring a focus on quality broadly neglected by many producers. In 2012 Ganja Gold burst onto the scene with Tarantula Pre Rolls, a strain-specific concoction of premium flowers, kief, and CO2 oil. The flagship item sailed far, and with it the expectations of a preroll were heightened. Ganja Gold has continued to develop a catalog of incredible high-end items. Today, their team is focused on creating breakthrough cannabis technology with exciting products that will change the way patients medicate.
Quality begins on the farm, and Ganja Gold is proud to work with a network of organic, Clean Green Certified cannabis gardens. There, dedicated master growers cultivate a premium selection of bud to reach their optimal genetic potential. When ready, those flowers are harvested, cured to perfection, then sent to the Ganja Gold state-of-the-art facility for processing. There, Ganja Gold extraction artists isolate the most desirable characteristics of the strain with various forms of extraction. No matter the method or the product, each is a high-end, luxury item that defies the norm and reshapes the cannabis landscape.
Here are just a few of Ganja Gold's premium cannabis options.
Tarantula Ganja Gold Tarantula Prerolls come in Blue, Green, and King varieties, each unparalleled to any other rolled flower. Blue Tarantula features strain specific flowers cultivated indoors while Green is comprised of sun-grown buds. Seasoned patients or adult users will meet their match with King Tarantula. This preroll packs a whopping two grams of premium flowers and like the others are coated in strain-specific CO2 oil then rolled in kief.
If you can't get enough of Ganja Gold flowers, then the R:Evolve Preroll box is for you. Included are four varieties: Awake, Zen, Inspire, and Heal — plus Evolve, Ganja Gold's Tarantula-grade flower coated in CO2 wax and kief.
Live Resin Vape Cartridges There are only two ingredients in a Ganja Gold Live Resin cartridge, terpenes and cannabinoids. These cartridges mirror the flavors and effects of the original cultivar, crafted from the freshest, flash frozen flowers. Each cartridge is filled with pure cannabis distillate and live cannabis terpenes safely extracted with CO2. You can enjoy these cartridges in a variety of strains from Jack Herer to Lavender Kush.
V2 Vapor Slide Introducing the V2 Vapor Slide, the device that turns your bong into a dab rig. Vapor Slide is the perfect blend of dab and pen. Attach to any standard 510 threaded cartridge to turn a female water pipe into a dab rig. This incredible piece of technology can also be used as a standalone pen for optimal versatility.
Ganja Gold is proud to offer full panel lab tested products provided by CW Analytics.